03 . 20 . 12
Face3 Media Redesigns Your Summer Plans, Again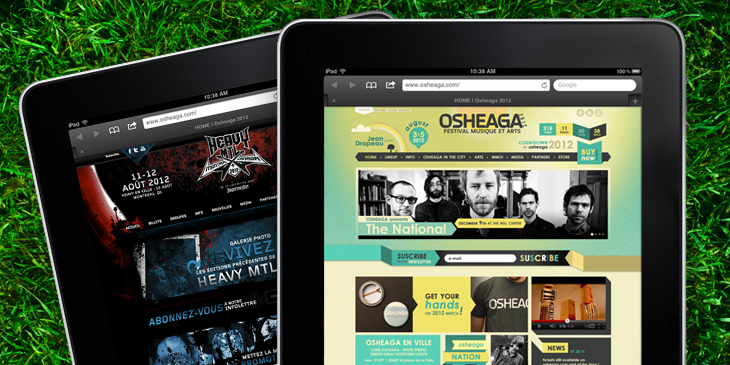 For the fifth year running Face3 Media is pleased to design & develop new websites for the Osheaga Music and Arts Festival and Heavy MTL.
Each website features need-to-know details about the events, from the lineup and safety information to a platform for purchasing tickets and even creating your own schedule. In 2011 the two festivals brought more than 125 bands and musicians to Montreal in a total of five days, and this year is sure to be even bigger. For Heavy MTL, 2012 means a chance to kick it into full gear in celebration of the Mayan-predicted end of the world. Nothing says apocalypse like heavy metal, hard rock and thrashing guitars. As for the Osheaga Festival, we at Face3 are as anxious as you to find out who makes the cut. A few of our favourite memories include the mid-afternoon set of The Walkmen and the perfectly timed fireworks during the 2010 Arcade Fire show. Do you have a favourite memory from these awesome Montreal Festivals?
To ensure that the 2012 shows are better than ever, we were given the task of redesigning the Osheaga and Heavy MTL websites for a fresh new look. We look forward to another successful (and melodic) year.
Need to reach us to discuss your project?